I'll be honest- I kind of put off putting this round up together on the hopes that the world would end, and I wouldn't need to do the work. Plus, Friday was my birthday, and I had more important things to think about (Indian food and chai, OMG the chai) than other people's blogs. Well, maybe not more important, but certainly more delicious.
But now, it's late Friday night when I'm putting this together, because my mom is here, and I really shouldn't be spending time writing this on Saturday.
I'm skipping doing new to me blogs this week, but I promise they will return.
However, because the only reason I'm still awake is the chai, I'm not really thinking clearly, so what you're getting is simply the most recent post from some of my favorite blogs- 5 each from pets and personal finance because 5 is a prime number and my age is now a prime number. (Also in alphabetical order, because that's the way they appear on my blog roll.)

Bringing Up Bella: Wordy-ish Wednesday 70 – The Christmas Card Edition. Bella has more Christmas cards than I do Christmas and birthday combined, but then, she's cuter than I am.
Heart Like a Dog: Un-Co-Hosted Follow-Up Friday. Jodi has started this new Friday edition where she posts follow ups on her regular weekly posts. I think it's cool, but I'm too lazy to do it myself.
Something Wagging This Way Comes: The Best Gift for Someone Who Has Everything. Since there are no kids in my family, and we all have enough stuff, I donate to animal charities in lieu of gifts for my parents and brothers.
Rescued Insanity: Snapshots from the End of the World. My day consisted of a pedicure (you so don't want pictures from that) and a trip to the dog park, where I made my mom take pictures. And then Indian food and CHAI. Kristine's pictures are definitely more interesting.
The Chronicles of Cardigan: Classic 'Crafty' Cardigan- Felting for Dumb@sses – Balls. Really, doesn't that title just tell you everything you need to know?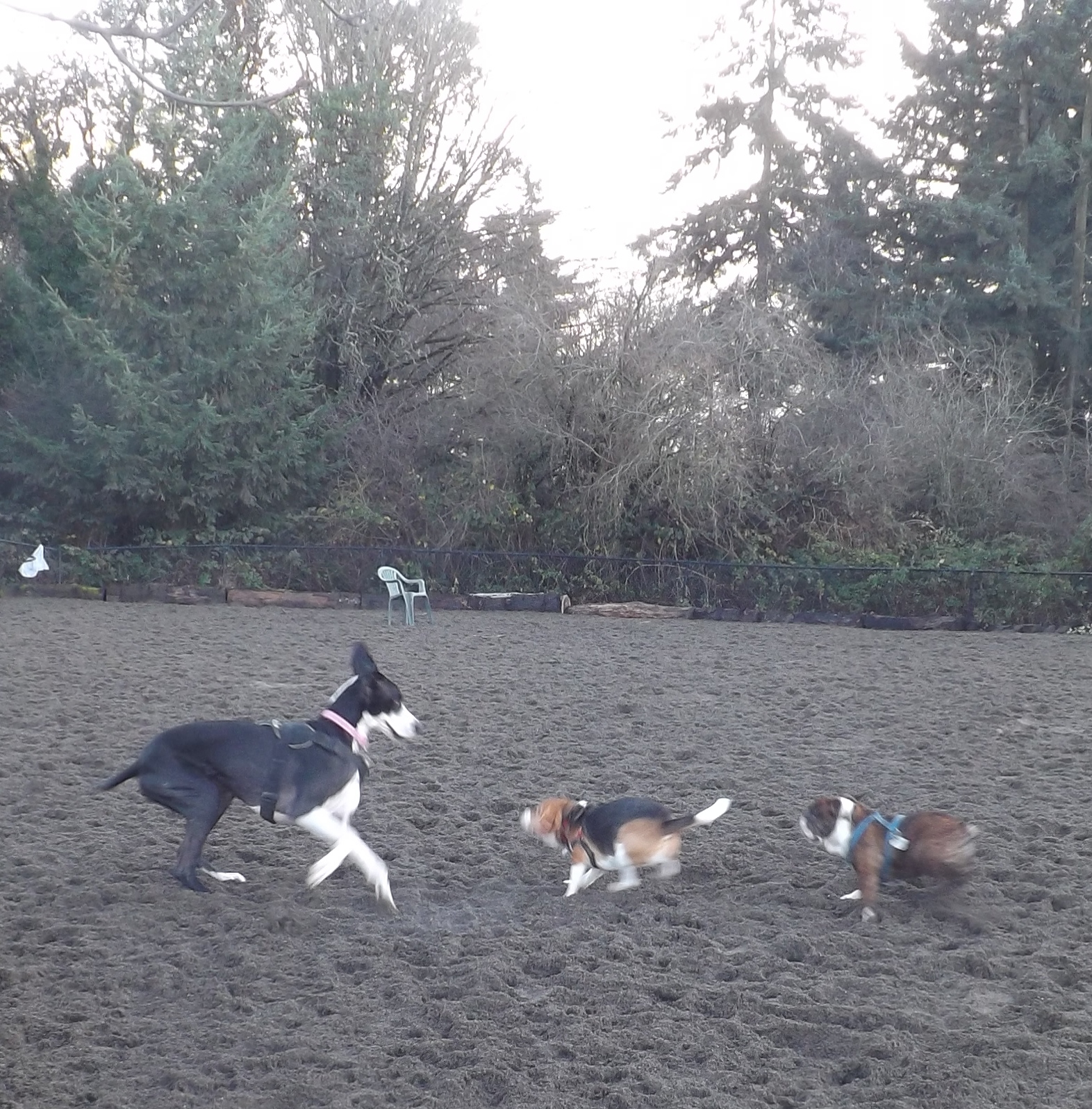 Average Joe's Money Blog: Year End Business Tax Planning – Stop Uncle Sam From Eating Your Lunch. This post is written by The Other Guy, meaning it has practical financial information that may actually help you.
Daily Money $hot: Family Activities for Winter Break. Does it count that our plan for Sunday evening is to sit at home and watch the Seahawks/Niners game in HD?
Len Penzo dot Com: 100 Words On- How Smart People Make High Risk Ventures Pay Off. Len and I have addressed the fact that I've been doing 100 words longer, but his stuff is still worth a read.
My Broken Coin: A Wacky Way to Create a New Career. Truthfully, if you want to be a reality show/game show contestant currently, you need to have a lot more drive than I do. It doesn't surprise me that these people have been able to turn it into a career.
The Family CEO: Gingerbread Houses in Glass Jars. And this is why, with my terrible hand eye coordination, I don't even try to be crafty.
And don't forget to check out Little Seattle Observationist: Another Seattle Dog Lover, my blog feature this week. (This takes us to 11 total blogs, because 11 is a prime number.)
And while it may be my birthday, I do want to give a gift to all of you, my dear readers- at least the ones in the northern hemisphere. I bring you…longer days. Happy Solstice.