I have a housing dilemma.
We learned in January that our long term (8 years) tenant in our out of state rental property will be moving. She's been a fabulous tenant, and we are sad to see her go. While we have no problems being landlords, we don't honestly want to be out of state landlords to a tenant we do not know, especially now that we do not have a built in property manager in my mom (since she has also left the area). So, we are selling the condo.
We own the condo free and clear, which means we should clear $50-60k after realtor fees and taxes. We are looking at taking that money and buying a nicer home where we are. We would prefer not to have to sell the house we are living in before buying a new home. We may choose to rent out the current house, but even if we do not, it will be just that much easier to get it ready for sale and to show it if we're not currently living in it.
Talking to our mortgage guy, we have two options. One is more complex and would leave me feeling less financially secure, but puts our buying power at $100k more than the simpler option.
We also have three goals for moving. In order of priority, they are:
1) Better schools for our daughter/future children
2) A shorter commute for me
3) A bigger/nicer house
The bigger/nicer house option is lowest on the priority list because we could take that same $50-60k, and make some major renovations to our current home.
Our ideal area has great schools and a very short commute for me. However, for the most part, it would require us to go with the more complex, less financially secure option for the mortgage. There are some houses in the area we are looking at that meet our requirements and are in the price range for the simpler mortgage, but, while they may be bigger than our current house (as in have a second bathroom), they are not nicer. (These houses also sell within a week of coming on the market. Sadly, I am not exaggerating. Average time on market in the Seattle area right now is 17 days, and this include neighborhoods like mine, where houses are sitting on the market for months.)
If we went with one of those houses- ideal neighborhood, simple mortgage price range –the plan would be to then do the basic cleanup needed on our current house, sell it, and immediately use the $30k or so we'd get from that to do renovations on the new house. That puts us with the double inconvenience of going through escrow (twice) and renovations.
That has us talking seriously about staying put and just doing the renovations needed for our house. While no renovations pay for themselves completely, some of them (like adding a 4th bedroom and 2nd bathroom) would certainly add to the value of our home.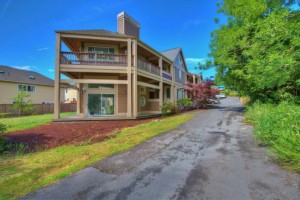 A house I LOVE has come on the market. This house has been on and off the market since 2007, though never sold. At this point, it seems to come on the market for a few months, not sell, and then go off. I am not certain why (there have been a couple of inspections, so there might be something really wrong with it), or it might just be that the owners are not willing to lower their price.
We first saw the house as an open house, probably in 2007 or 2008, when we were first considering moving my late MIL in with us. I fell in love with the house then. And now, it is back on the market, in the simple mortgage price range. Fate?
And here is my dilemma. This house is only half a mile from our current home. Not only would our daughter not move to a better school district, she would even be on the exact same bus she takes now, just a different stop. My commute would, obviously, not improve. That means that of our 3 reasons for moving, we would only be hitting one of them.
Though it would be hitting that reason big time. The house is considerably bigger (5bd/3.5ba vs 3bd/1ba) than our current home and is much nicer. Because it is the simpler mortgage, without a need to instantly sink more money into renovations, it would make keeping our current house and turning it into a rental financially viable. And location wise, that would also be incredibly convenient, with C only being a half mile away for any property management that needed to be done.
But, and I keep coming back to this but, our daughter remains in a school that is rated a 2 (on a scale of 1-10) instead of moving to a school that's rated an 8 or 9. Still, this would be true if we just renovated our current house.
We have an appointment to view the house later this week. Maybe we will see it now and not love it as much we did before. Maybe we will be able to find out why the sale has not gone through after a couple of inspections and realize we do not want to deal with that. Or maybe we will remain in love with the house, in love enough that we will really have to review our priorities for moving. It is a dilemma.